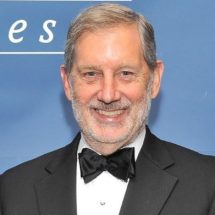 Allan M. Chapin
Chair, Board of Directors
Allan M. Chapin began his career as a lawyer at Sullivan & Cromwell, where he became a Partner in 1976. He was a resident of their Paris office for several years and served as head of Sullivan & Cromwell's European operations. He then became a Managing Director of Lazard Frères & Co. LLC, and subsequently a partner of Compass Partners Advisors, LLP. Throughout his career, Mr. Chapin has represented sovereign governments, agencies, investment and merchant banks, insurance companies, a wide array of industrial private sector companies, and many foreign investors, both individuals and corporations.
Mr. Chapin has served as a Director of the French-American Foundation since 1999, becoming Chairman of the Foundation in 2008. Mr. Chapin is also a Director of Fondation Claude Pompidou, a Trustee of Aperture Foundation and has served as a Director of many public and private companies in the United States and Europe. Mr. Chapin received his bachelor's degree from Yale University and his LLB from Yale Law School. He served in the United States Marine Corps.
Edward C. Wallace
Vice Chair, Board of Directors
Edward C. Wallace serves as Co-Chairman of Greenberg Traurig's New York office. Ed has deep experience in law, business and government. He serves as a trusted advisor to companies doing business with government. He serves as outside counsel to JC Decaux North America. He has advised Extell/Carlyle, Silverstein/El Ad, Columbia University, NYU and Fordham on major real estate development projects and major government service providers including JC Decaux and Hornblower.
Prior to entering the private sector as a Vice President at Boston Properties, he served as City Council Member-at-Large (Manhattan) and then Chief of Staff to the New York City Council President. Ed began his career in the Chelsea neighborhood office of the Legal Aid Society. He is vice president and outside general counsel to the Citizens Budget Commission and director emeritus of New Yorkers for Parks, where he was previously chair. He also served as counsel to NYC 2012, the City's Olympic bid. Ed has been listed in multiple editions of The Best Lawyers in America and Super Lawyers and is rated AV Preeminent by Martindale-Hubbell. He is consistently included on City and State's New York City Power 100 list and was named a 2020 Lifetime Achievement honoree.
Executive Committee
Gary M. Cole
Chloe Demrovsky
Jean-Yves Fillion
Yves-André Istel
Roy Kabla
François Pagès
Ina Popova
Douglas M. Price
Clyde E. Rankin III
Cynthia Smith
Antonio Weiss
Board of Directors
Gina Adams
Kirsten Bartok
Carol Bellamy
George Brokaw
Anne Dias
Charles Ferguson
James Finkel
Julia Fromholz
Emma Fuerst Frelinghuysen
Fatima Hadj
Scott Handler
William R. Hearst III
Maya Henry
Adam Hodge
Reuben Jeffery III
Andrew Klaber
Mia de Kuijper, PhD
Raymond J. McGuire
Clare O'Brien
Alain Papiasse
Frédéric Rozé
Melissa Sawyer
Siddhartha Shukla
Ambassador (ret.) Craig Stapleton
John Thain
G. Richard Thoman
David Thoms
Robert Treuhold
Honorary Director
François Bujon de l'Estang
Advisory Directors
Jean-Luc Allavena
Bertrand Badré
Paul Clemenceau
Adam Gopnik
Catharine Hamilton
Jane Hartley
Joanne Lyman
Leah Pisar
Arnaud de Puyfontaine
Marie-Monique Steckel
Antoine G. Treuille
In Memoriam
Michel David-Weill (1932-2022)
James G. Lowenstein (1927-2023)