Mission
The French-American Foundation is the only organization dedicated solely to sustaining and strengthening the French-American relationship at the highest levels of leadership. The Foundation works to build lasting, practical working ties between France and the United States and to advance solutions to problems of shared concern. Through our work, we seek to perpetuate more than two centuries of shared ideals and friendship to meet the challenges of the 21st century together.
Work
Unique among cross-cultural organizations linking France and the United States, the French-American Foundation's programs construct a vertical path through diverse groups of constituents. Our programs convene leaders from business, government, the military, medi academia, the not for profit and cultural sectors who bring varied professional viewpoints to bear upon topics of common interest. Engagement along this axis creates an innovative intersection of ideas and experience, promoting open minds and productive dialogue.
Since 1976, the French-American Foundation has implemented over 500 programs including conferences, study tours, symposia, meetings, internships and residences, fellowships, lectures and awards. With more than 4,000 participants in areas including education; immigration; cybersecurity and defense; business and the economy; energy and the environment; urban development and renewal; health care; and the role of culture, the French-American Foundation has created a rich network of people and ideas for action.
Impact
The Foundation's programs are designed specifically to achieve a multiplier effect – leverage among leaders. By engaging and activating a broad range of decision makers and opinion shapers in both countries, the Foundation has reached, influenced, and positively impacted many times the number of people as have participated directly in its activities. The Foundation's emphasis on the coming generation of leaders in both France and the United States, the "threshold" people, ensures that the results of its efforts will be long lasting.  Alumni of our programs include presidents, prime ministers, governors, key government officials and diplomats, military and corporate leaders, industry experts, distinguished academics and teachers, laureates, celebrated authors, artistic luminaries, and groundbreakers and problem solvers from public and private sectors alike – informing the debate and seeking solutions for the benefit of all citizens.
History
The French-American Foundation was established in 1976 with the goal of strengthening Franco-American relations outside of official diplomatic circles. The Foundation's structure – sister organizations in New York and Paris that share a common name, a parallel legal structure, and a common mission, but operate independently – makes it uniquely positioned to collaborate closely and address the specific interests and needs of constituents on both sides of the Atlantic.
Read more about the history of the French-American Foundation as recounted by its co-founder Ambassador James G. Lowenstein here [insert history document]
Board of Directors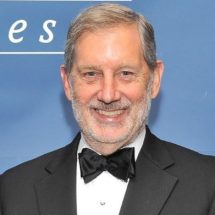 Allan M. Chapin
Chair, Board of DirectorsAllan M. Chapin began his career as a lawyer at Sullivan & Cromwell, where he became a Partner in 1976. He was a resident of their Paris office for several years and served as head of Sullivan & Cromwell's European operations. He then became a Managing Director of Lazard Frères & Co. LLC, and subsequently a partner of Compass Partners Advisors, LLP. Throughout his career, Mr. Chapin has represented sovereign governments, agencies, investment and merchant banks, insurance companies, a wide array of industrial private sector companies, and many foreign investors, both individuals and corporations.
Mr. Chapin has served as a Director of the French-American Foundation since 1999, becoming Chairman of the Foundation in 2008. Mr. Chapin is also a Director of Fondation Claude Pompidou, a Trustee of Aperture Foundation and has served as a Director of many public and private companies in the United States and Europe. Mr. Chapin received his bachelor's degree from Yale University and his LLB from Yale Law School. He served in the United States Marine Corps.
Edward C. Wallace
Vice Chair, Board of Directors
Edward C. Wallace serves as Co-Chairman of Greenberg Traurig's New York office. Ed has deep experience in law, business and government. He serves as a trusted advisor to companies doing business with government. He serves as outside counsel to JC Decaux North America. He has advised Extell/Carlyle, Silverstein/El Ad, Columbia University, NYU and Fordham on major real estate development projects and major government service providers including JC Decaux and
Hornblower.
Prior to entering the private sector as a Vice President at Boston Properties, he served as City Council Member-at-Large (Manhattan) and then Chief of Staff to the New York City Council President. Ed began his career in the Chelsea neighborhood office of the Legal Aid Society. He is vice president and outside general counsel to the Citizens Budget Commission and director emeritus of New Yorkers for Parks, where he was previously chair. He also served as counsel to NYC 2012, the City's Olympic bid. Ed has been listed in multiple editions of The Best Lawyers in America and Super Lawyers and is rated AV Preeminent by Martindale-Hubbell. He is consistently included on City and State's New York City Power 100 list and was named a 2020 Lifetime Achievement honoree.
Executive Committee
Gary M. Cole
Chloe Demrovsky
Jean-Yves Fillion
Yves-André Istel
Roy Kabla
François Pagès
Ina Popova
Douglas M. Price
Clyde E. Rankin III
Cynthia Smith
Antonio Weiss
Board of Directors
Gina Adams
Kirsten Bartok
Carol Bellamy
George Brokaw
Anne Dias
Charles Ferguson
James Finkel
Julia Fromholz
Emma Fuerst Frelinghuysen
Fatima Hadj
Scott Handler
William R. Hearst III
Maya Henry
Adam Hodge
Reuben Jeffery III
Andrew Klaber
Mia de Kuijper, PhD
Clare O'Brien
Alain Papiasse
Frédéric Rozé
Melissa Sawyer
Siddhartha Shukla
Ambassador (ret.) Craig Stapleton
John Thain
G. Richard Thoman
David Thoms
Robert Treuhold
Team
Caroline Naralasetty
President
Caroline joined the Foundation in 2021. She previously served as Director of Development at the Lycée Français de New York, where she oversaw annual and major giving, special events, and alumni relations for the 1,200+ student school, a member of the global AEFE network. Prior to that, Caroline was a Corporate Vice President at consulting firm CCS for over a decade, where she planned, implemented, and managed major fundraising initiatives for non-profit organizations across secondary and higher education, healthcare, and the arts. She began her career as a strategic communications consultant in New York.
Caroline holds an MBA from New York University's Stern School of Business, an MA from NYU's Institute of French Studies, and a BA from Stanford University. She and her family reside in Manhattan.
Elizabeth McGehee
Program Director
Elizabeth is the Program Director at the French-American Foundation. In this capacity, she works to develop and implement key programs to fulfill the Foundation's mission of strengthening transatlantic dialogue. Prior to joining the FAF, she worked in international communications for Sciences Po Paris and in outreach for the Future Leaders Foundation, a nonprofit that unites young leaders who pledge to enact positive global change. She holds a BA from the American University of Paris, where she studied Global Communications, Marketing, Gender Studies and Fine Arts.
Fany Robin
Finance and Operations Manager
Fany Robin is the Development and Finance Manager at the French-American Foundation. She is an economist with experience in France and in the United States on public policy issues related to trade and foreign direct investment. Prior to moving to New York, Fany was Deputy Head of Economic Analysis at Business France in Paris and worked as Trade Policy Attaché at the French Embassy in Washington, DC. Fany holds a postgraduate degree in international economics from the Paris School of Economics.
Margaret Fahey
External Relations Associate
Margaret Fahey is the External Relations Associate at the French-American Foundation. She works to support the Foundation team with development, communications, and programmatic initiatives. Margaret's background is in education and non-profit work. During the 2018-2019 school year, she completed a Fulbright grant in Marseille, France, where she taught English to high school students. She holds a BA in International Political Economy and French from Fordham University.